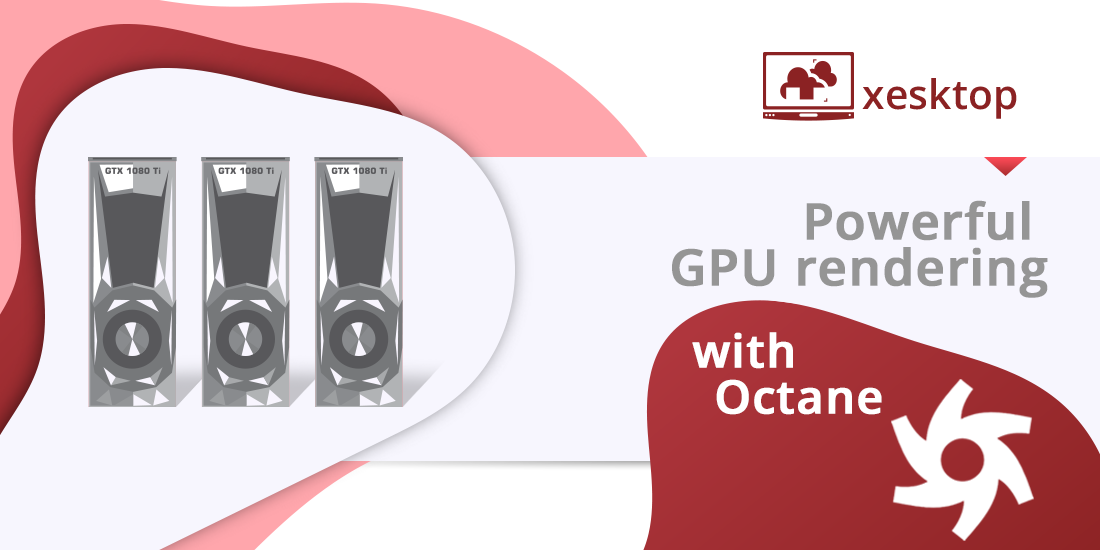 Powerful GPU Rendering With Octane
Powerful GPU Rendering With Octane
When it comes to 3D GPU rendering, Octane will always be on the top list. Despite being relatively new in the market, this rendering engine is highly regarded. It promises the speed and quality rendering that 3D artists are surely aiming for.
In this article, we'll dive deeper into this GPU rendering engine, find out whether it lives up to its reputation as one of the best when it comes to unbiased rendering, and give you necessary points that could be valuable in deciding whether this product is worth a purchase. 
What is OctaneRender?
As per Otoy's description, OctaneRender is the fastest unbiased GPU render engine capable of providing unparalleled quality and speed. In simple terms,  will allow you to create digital reality quickly and easily.
Also, OctaneRender is one of the pioneers of GPU rendering and is currently one of the leading GPU render engines. This is probably partly because the product can integrate with a wide array of plugins for digital content creation such as Modo, LightWave, Maya, and 3ds Max. Plus the platform is known for its user-friendliness. Even new 3D artists will be less likely to have a hard time working their way around the engine. OctaneRender enables its users to concentrate on the artistic side rather than the technical side of things.
OctaneRender's Key Features
OctaneRender is feature-packed. In this article, however, we'll only cover the functionalities that take the product apart from its competitors.
Fully GPU-based
OctaneRender leverages the power of the GPU. It claims to have the ability to quickly render final quality images, specifically 10 to 50 times faster than its CPU-based rendering engine counterpart. On top of that, the engine can scale nearly absolutely. It is capable of handling multiple GPUs. With every GPU added to your system, you can expect a boost in its performance.
Standalone Application
One of the features unique to OctaneRender is its standalone application. Of course, the platform still comes with add-on plugins.
With the standalone application, a scene will be imported to the platform from 3D modeling software. Once the scene is already on the standalone platform, you'll have the freedom to adjust lightings and materials as you wish. To give you maximum interactivity, the rendering settings and render resolution are lower. When the scene is ready for final rendering, the platform boosts the resolution and increases the render settings. The rendering can be completed in a matter of minutes.
Octane's standalone application can be a very useful tool because it gives you the opportunity to test a wide array of elements. 
Insanely Fast & Responsive Preview
OctaneRender's preview window is probably the most impressive and responsive in the digital content space. Depending on the plug-in, you can get quick access to the focus point selection, material selection, and AOV or render layer preview. 
Material Library
OctaneRender comes with various materials which are easier to comprehend, making it ideal for new 3D artists. It also supports subsurface light scattering (SSS), chromatic dispersion, and complex IOR to name some, enabling artists to create the best materials possible. Artists can also create complicated materials using the platform's node editor. Furthermore, this render engine supports toon shaders, metallic materials, and allows the import of complex PBR textures. 
Huge Octane Community
It is not a built-in feature but still worth mentioning as it can be of huge help in figuring out how to make the most of the engine. Octane's Facebook group has over 30k members. There's also an Octane community on Reddit and other forums so there's a lot of channels where you can find valuable Octane-related information.
Supported Software
OctaneRender supports the following platforms:
Linux (64-bit)

Windows 7 or higher

macOS 10.13.6 High Sierra 
If you will be using Windows or Linux, you'll need a recent NVIDIA driver while a CUDA runtime file is required for macOS.
Pricing
OctaneRender, given its power, isn't cheap. The lowest price offered by its developer is over 600 Euro billed on an annual basis. Their pricing structure is a bit confusing. If you want to know more about the pricing details of this product, don't be shy to visit their website. 
The Drawbacks
OctaneRender is undeniably powerful but it isn't perfect, just like every other software out there. We won't omit the drawbacks of the engine so you could make a deliberate decision.
We've mentioned that this engine requires NVIDIA GPU to work on Linux and Windows. It could be an issue for those who lack resources but it is not really a deal-breaker.
Also, since Octane is GPU-based and it uses VRAM video cards, it has limited storage capacity. This can lead to several issues, such as fewer polygons rendered in the scene and low quality of textures and solutions, like fur displacement and motion blur. In this case, you might want to use a more powerful engine like Nvidia to offload memory to RAM. 
If you have a tight budget, you can also try renting a GPU. Xesktop, a GPU rental service provider, offers powerful GPUs for rent at reasonable prices. It's an ideal option for 3D artists who wish to cut the time they need to render their graphics but lack the funds to purchase the necessary equipment. 
So far, those are the only disadvantages of the engine. 
If you wish to know more about the product and know whether there are other cons, the vendor offers a free trial. It is also a great opportunity to see whether the product suits your preferences before you make a purchase.
OctaneRender Vs. Other GPU Rendering Engines
OctaneRender isn't the only GPU rendering product in the market these days. There's Redshift, VRay, and Arnold to mention some. 
Each of them has its respective strengths and weaknesses. But if you are looking for quick, quality results, OctaneRender is a go-to. 
Generally, the best will still depend on your preferences. But one thing is for sure – Octane is definitely a powerful GPU rendering engine. And it is worth a try. Besides, it offers a free trial so you can see things for yourself without risks involved. 
https://xesktop.com/wp-content/uploads/2021/03/pasted-image-0.png
550
1100
Arkadiusz Tomczak
https://xesktop.com/wp-content/uploads/2020/12/logo-xesktop_new.png
Arkadiusz Tomczak
2021-03-19 17:38:00
2021-03-20 14:39:30
Powerful GPU Rendering With Octane