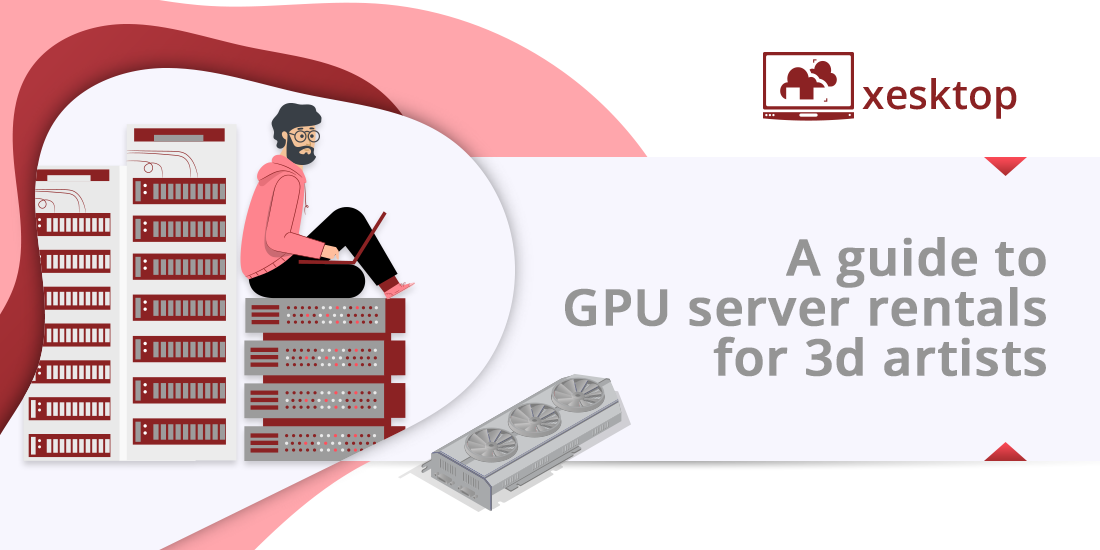 A guide to GPU server rentals for 3D artists
As a 3D artist, you probably have already experienced waiting for hours just to render your creative project. If you are using a low-end device, rendering a still image may even take a whole day to finish. It can be a headache especially if you are on a tight deadline or just have tons of animations in line for post-production.
Not only is rendering time-consuming, but it is also resource-intensive. It demands multiple computer components, including your graphics card, your hard drive, RAM, and the 3D software to operate in unison. The quality of the aforementioned components also matters. If your graphics card is low end or your RAM does not have sufficient capacity, you won't be able to render your work at a high speed.
But you are probably already aware of all of these things, and chances are you found your way here because you do not have a high-powered graphics-processing unit (GPU) capable of rendering your 3D works seamlessly. Also, you may have landed on this post because you want to know more about GPU server rentals and you're considering hiring a server rental service to ditch your underpowered GPU.
In this seven-minute read, we'll talk about everything you need to know about server rentals—what a GPU Server Rental is, who should use it, and when should you use it.
What is GPU Rental?
In its simplest definition, a GPU rental means offering a server in the cloud for rent. Since the server is in the cloud, you can connect to and use it remotely. It allows you to have a powerful workstation without actually having an actual GPU server at your workplace.
A GPU server rental can be used by different professionals for various purposes. Since it is in the cloud and accessible anywhere, it can be used for collaborating with teams from opposite ends of the world. It can also be used by businesses that deal with massive overhead on hardware and need to constantly upgrade their system, as well as creative professionals including 3D artists whose hardware cannot keep up with their project requirements to mention some.
Usually, the dedicated server comes with a high-end GPU and other specifications, such as high RAM memory. With a high-end machine, GPU server rental is a good option if you need to finish rendering a 3D work quickly, have large projects, or unexpected tight deadlines but do not have the right device to get the job done nor the resources to buy a new one.
Unlike building your own personal computer or upgrading your existing hardware, which is one of the options to speed up rendering (and costly), renting a GPU server gives you more for less. You can enjoy a high-end, up-to-date machine and experience fast and seamless 3D GPU rendering even if your local computer is a bit outdated or has low specs.
You do have to pay the cost of rent, but it costs way less than buying your own computer with high specifications. For instance, if you want to get the best of the GPU cards which is currently the GeForce GTX 1080 Ti, you would need to invest hundreds of dollars. If you upgrade every individual hardware part of your computer such as the RAM, you would have to prepare a hefty amount.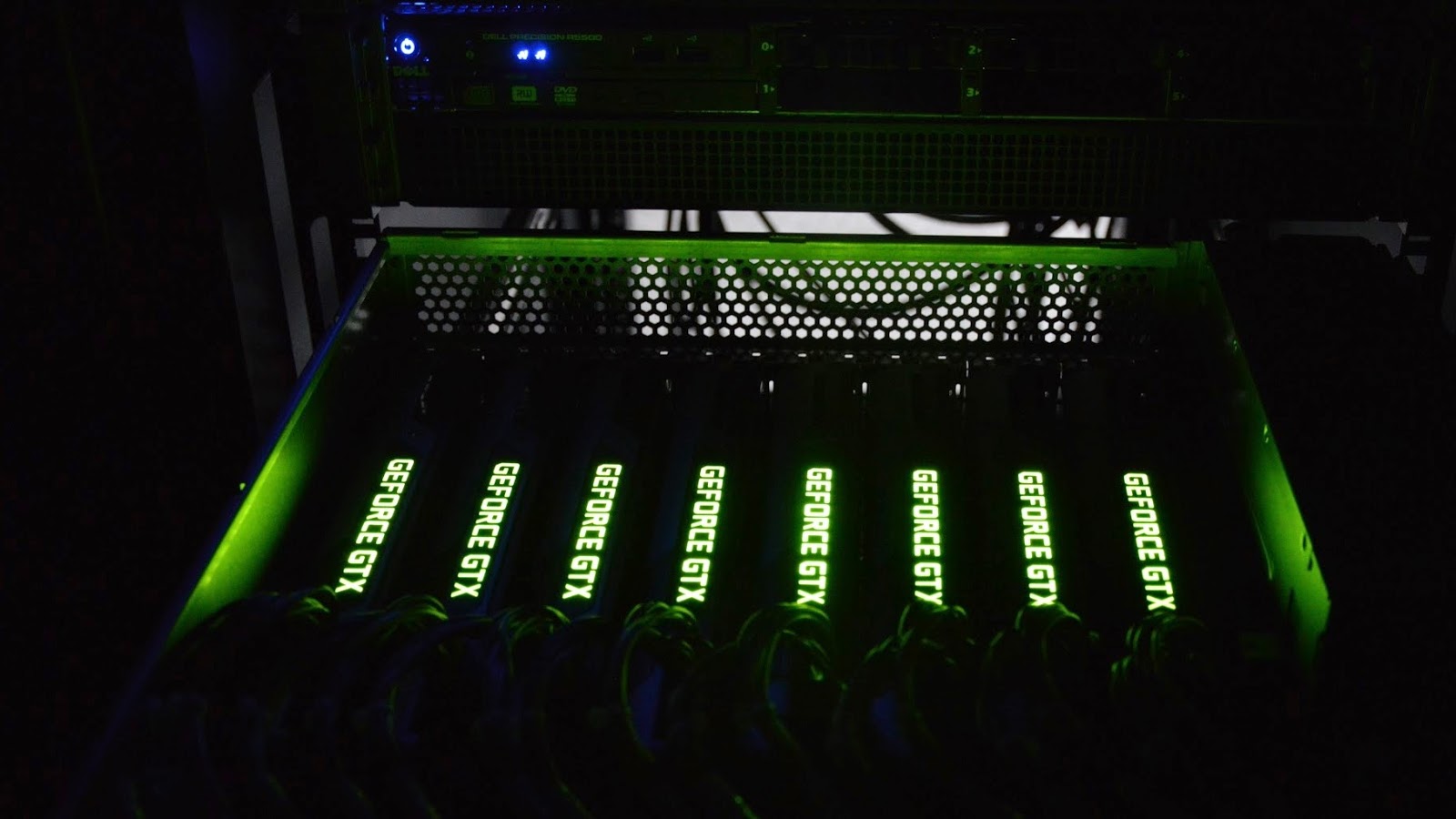 On the other hand, with a GPU server rental, you can have them for a fraction of the price. For instance, Xesktop, one of the leading GPU server rental providers, only charges $6 to $8 per hour. It offers powerful servers that can be equipped with either of two specifications:
Server 1. specs
10x GTX 1080Ti 11GB vRAM

CPU: 2x Intel Xeon E5 v4 8-core 3.0 GHz

RAM: 256 GB

OctaneBench: 2,093
Serve 2 specs
8x Tesla P100 16GB vRAM

CPU:

2x Intel Xeon E5 v4 10-core 3.2 GHz

RAM: 256 GB

OctaneBench: 2,055
Server 3 specs
8x Tesla V100 16GB vRAM

CPU: 2x Intel Xeon E5 v4 10-core 3.2 GHz

RAM: 256 GB
At this rate, you can rent and use as many powerful GPUs as you need or want. Xesktop also offers helpful guides to help 3D artists find the best 3D rendering solutions.
If you are to build a personal computer with the aforementioned specifications, it will cost you thousands of dollars.
You might think that building your own computer would be less expensive than renting one in the long run. Fair enough. But would you still wait to acquire a huge sum of money before being able to render your 3D works quickly? On top of that, it is hard to acquire the latest graphics card or CPU considering how fast these components develop.
Aside from cost-efficiency, a GPU server rental is also known for its unparalleled speed. You can get access to high-end graphic cards which can give you a substantial rendering speed boost.
How to Use GPU Servers Rental?
It's simple. Xesktop, for instance, lets you create an account, log in to their web dashboard, choose the machine you want to use, and get the necessary credentials to get started. Getting started is typically a walk in the park. And if there are certain things you do not understand, they have a support team who offers help.
Once you're done, you'll get a blank desktop that you can use as your own local computer. It gives you full control of what tools or software to install. In terms of 3D software, Xesktop supports most of the commonly used platforms such as Cinema 4D, Maya, 3ds Max, Lightwave, Daz 3D, and Blender.
Afterward, you can start transferring your files from and to the server using cloud drivers such as Google Drive, third-party File Transfer Protocol (FTP) services, or by copying directly through Remote Desktop Protocol (RDP).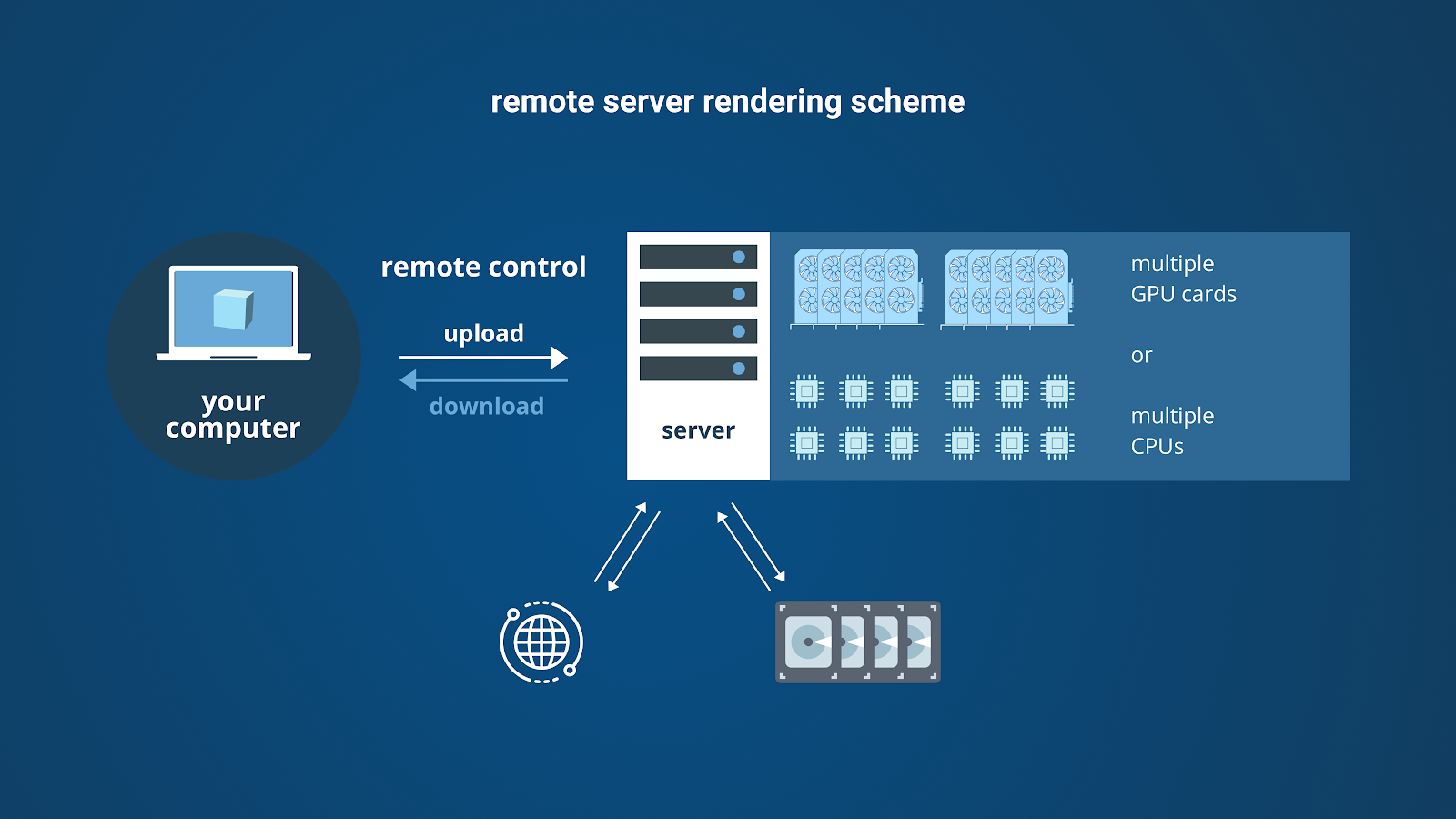 How Do GPU Rental Servers Differ from Render Farms
In terms of rendering 3D graphics, you probably have already come across the word "render farms". It's not surprising since this service has been around for more than a decade and is considered as one of the ideal solutions when it comes to rendering. Well, there is a good reason behind it.
A render farm consists of various high-end computers linked with each other to make rendering fast, seamless, and less of a headache. They are mostly automated systems. All you have to do is send the source file to the render farm and the farm software will distribute your file to various computers on its network. The connected computers will then perform every stage of the rendering process simultaneously. They will do the heavy lifting, and even give you the final product quickly.
So if a render farm does a great job at rendering your 3D works, why should you still consider leasing a GPU server?
Well, GPU server rentals offer something that isn't available in render farms – flexibility. The service gives you access to a blank system. You may still need to do all those mundane tasks such as installing a render engine and 3D software, but it also means you get the opportunity to make adjustments to your files and render directly from your DCC GUI from within a rented server. It will allow you to identify issues immediately. No need to reach out to the technical support of your chosen server rental service provider to discuss issues. But in case the need for assistance arises, server rental service providers like Xesktop still provide 24/7 live support.
Additionally, GPU server rentals give you improved control over your projects at the fraction of the cost of hiring an in-house team. It also allows you to work on a high-powered machine on the go, seamlessly carry outside tasks such as caching and baking, and solves the dreaded long queue problem with render farms.
Should You Use GPU Server Rental?
The answer will depend on your preferences, requirements, and purpose.
If you are a 3D artist who wants full control over the rendering process, then you will undoubtedly benefit from renting a GPU dedicated server. You will be the one to do everything. The GPU rental service will only lease GPU.
GPU server rental is also an option if you have a high clientele and are working on high-end animations and motion graphics so you need access to a huge GPU rendering power. Or if you are just fed up waiting hours after hours for the rendering to finish.
But if you don't like working on the technical aspects, such as installing each and every software required for post-production of your 3D works, the render farm will suit your requirements better. You don't have to do anything but wait until the rendering of all your submitted source files is finished. It's convenient.
What's Next?
In today's digital world, cloud computing is becoming the new norm. It has allowed us to do things in a faster and more scalable way with more efficiency but fewer costs. This same technology has made it possible to make the typically time-consuming rendering of 3D graphics faster through the GPU rent cloud. It gives 3D artists the processing power they require to finish high caliber works and meet even the most intense, last-minute deadlines. On top of that, you only pay for what you use.
GPU server rental services, like Xesktop, are a powerful tool for 3D artists. It lets you have as many powerful render machines as you need at any moment. So instead of worrying about the processing capacity, an artist can focus on their job which is to get creative.
With the information on GPU Server rentals presented above, you gained something that could help you as a 3D artist. Hopefully, the knowledge helps you as you embark on the journey towards finding a powerful GPU server to rent for smoother and faster rendering.
To learn more about Xesktop and it works, watch this video:
Good luck with your 3D rendering experience!
https://xesktop.com/wp-content/uploads/2021/02/pasted-image-0-1.png
550
1100
Arkadiusz Tomczak
https://xesktop.com/wp-content/uploads/2020/12/logo-xesktop_new.png
Arkadiusz Tomczak
2021-02-02 14:31:47
2021-06-30 09:14:00
A guide to GPU server rentals for 3D artists